Last Updated: February 10, 2017.
New York is known as the city that never sleeps, and rightfully so. Hundreds of millions of people come to the city every year to attend events and do business. There are plenty of great venues for event planners to explore in the city, ranging from the small and simple to the large and elegant. But finding the perfect New York City venue for your next event can feel overwhelming.
If you're wondering what principles you should apply as you search for venues in New York City, first read this free 16 page guide on choosing innovative event venues.Then come back to our list of New York City venues to find the few that really interest you. If you're interested in adding a venue to our list, please email us here with a high resolution image of the venue attached to the email.
41 Excellent New York City Venues
1. Clinton Hall
Located on 90 Washington Street, Clinton Hall is a beer hall and courtyard garden in the Financial District. Clinton Hall offers 20 draught beers and ciders on rotation for your guests. Clinton Hall could be the perfect venue for your next private party or corporate event, especially if event attendees are interested in good beer and a relaxed atmosphere..
Learn how to find a venue as stunning as the ones on our list. Click button to grab a free eBook on innovative event venues!
2. 404 NYC
With 7,500 square feet of usable event space, 404 NYC can be transformed into the New York venue of your dreams. The multi-level space is just 2 blocks from the Jacob Javits Center, making it a perfect getaway from those attending large conferences or convensions. Some of 404's famous clients include Facebook, Twitter, HBO, YouTube, HGTV Magazine and QVC.
The Ramscale studio, located in the West Village, near the Highline. It's an ideal space for for product launches, fashion shows and corporate retreats. Your guests will have stunning views of lower Manhattan, the Hudson River, and New York Harbor. With natural light flowing through its windows at all times, the space feels modern, airy and refreshing.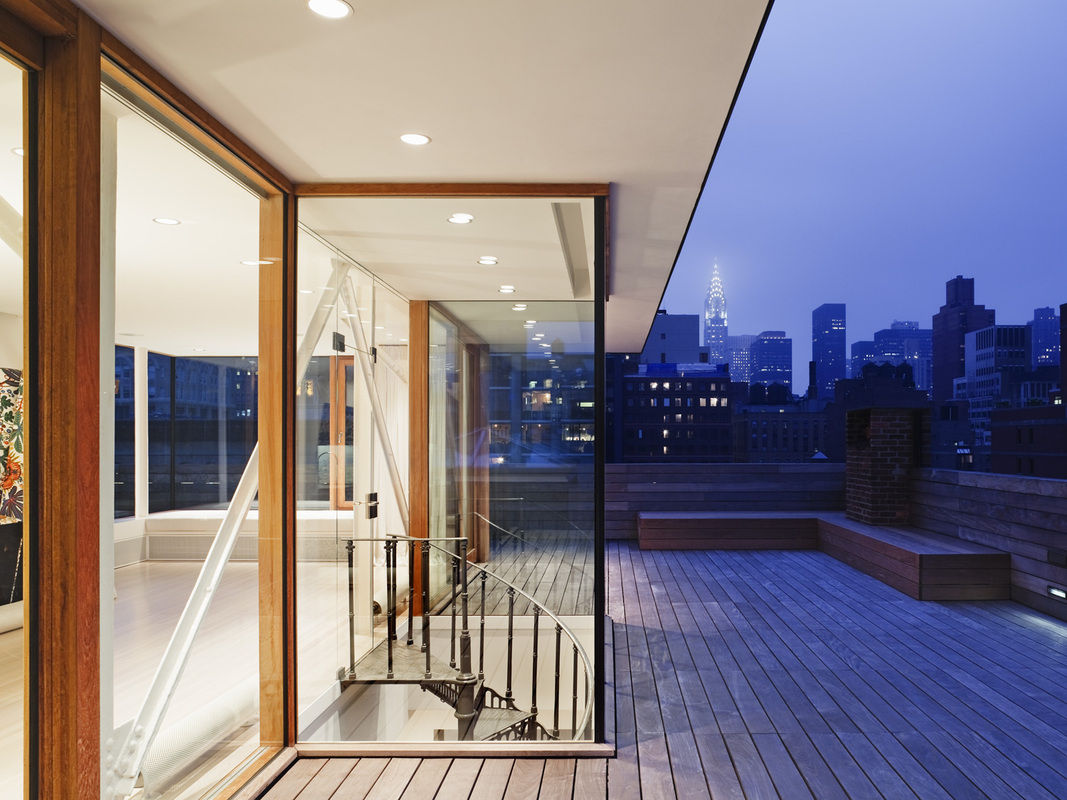 The Loft in Flatiron on West 23rd Street, was originally a members-only club, but is now open for select, private events. This space has its own theater and media room, making it a good location for screening and presentations. This New York event venue provides organizers with A/V Equipment, WiFi and is handicap accessible.
5. Space 530
Enjoy a modern, full-service event venue at Space 530. Located in the Fashion District, Space 530 is perfect for press events, speaker panels, and corporate meetings. The venue features state-of-the-art audio visual equipment, lounge seating, a built-in LED bar, conference rooms and passenger elevators. This event venue seems ideal for a swanky networking event!
6. Raines Law Room at The William
Looking to enjoy cocktails with your guests at your next event? The Raines Law Room at The William may be your ideal event space. Located on 24 East 39th Street, Raines Law Room at The William is just steps away from the hustle and bustle of Grand Central Station, but it feels as though you've entered a speakeasy in the 1920's.
7. Rooftop48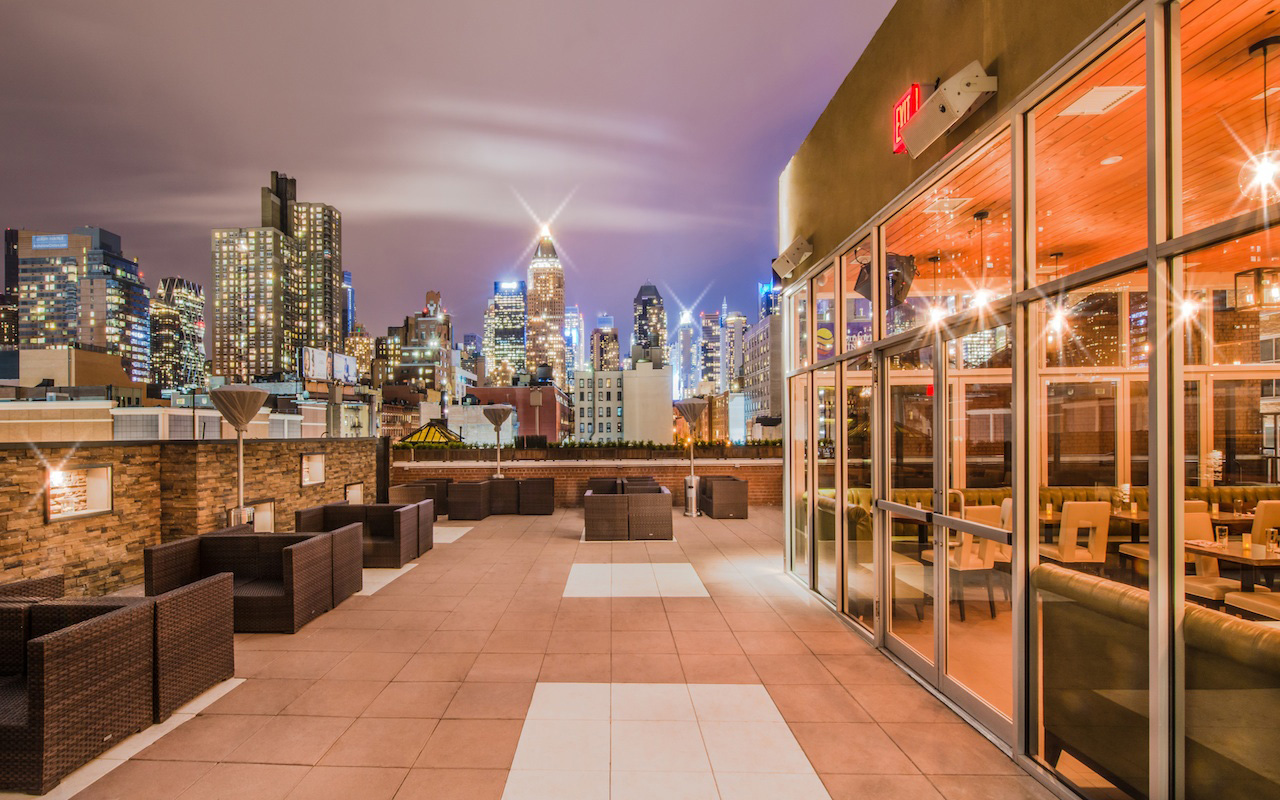 Enjoy beautiful skyline views as your host your next event at Rooftop 48 in Midtown Manhattan. This New York venue can host up to 350 guests and offers catering services, valet parking and coat checking services.
Rooftop 760 is a multi-level event space with an outdoor patio that overlooks the Theater District. The space provides event planners with state-of-the-art A/V and sound system and high-definition TV screens. Plus this the venue is just blocks from Times Square, famously called The Crossroads of the World.
9. Three Sixty°
Enjoy 30,000 square feet of event space at Three Sixty°. This venue can host up to 700 guests and is located in the center of Tribeca, a part of the city that Jay-Z and Beyoncé, Gwyneth Paltrow and Taylor Swift call home. Executive Chef, Joseph Jenkins will help you create a custom menu to fit both your guests tastes and your budget.
10. Hudson Terrace
Escape the office and host your event in one of Hudson Terrace's event spaces. Host up to 500 guests on the rooftop, garden terrace or in the salon.This full-service event destination overlooks the Hudson River in midtown Manhattan.
11. Pier 36 NYC
Located on South Street, Pier 36 is a state-of-the-art sports and entertainment facility. Have a lot of supplies and props? Pier 36 offers easy access for commercial and large vehicles loading and unloading on its 55,000 square foot lot. Take note event planners, not all New York City venues feature such easy access.
The Parisian-inspired NoMad Hotel on Broadway offers event planners both indoor and outdoor spaces for their events. Your guests can relax on the rooftop, dine in the restaurant or meet in a private dining room. NoMad provides catering services with food by Chef Daniel Humm, to help you create an elegant and delicious affair for guests.
13. Rainbow Room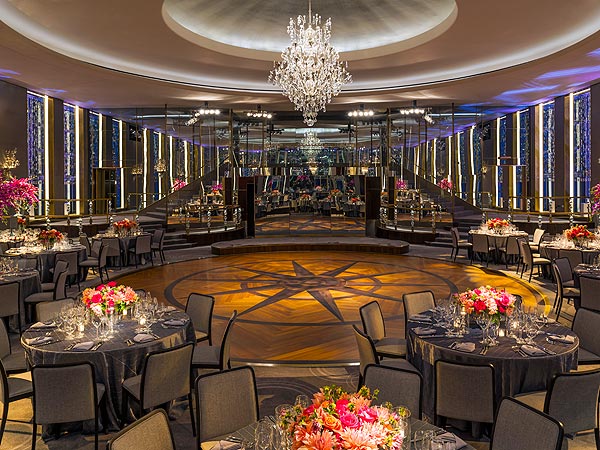 Considered a quintessential New York City Venue, the Rainbow Room sits 65 stories over Rockefeller Center on Rockefeller Plaza. The Rainbow Room accommodates 300 guests for dinner and 270 guests for dinner with dancing.
14. NYIT Auditorium on Broadway
Host exclusive screenings, executive presentations, panel discussions and private parties at The NYIT Auditorium on Broadway. The 262-seat auditorium features a platform stage and is equipped with modern technologies like Surround Sound, video conferencing capabilities and wireless broadband internet.
15. 3 West Club
Host an event for up to 300 guests at 3 West Club. This venue is located in Midtown Manhattan and boasts over 7,000 square feet of meeting space. 3 West Club also offers overnight accommodations to meeting groups. You and your guests can choose from 27 main hotel rooms and 2 suites.
16. 353 West NYC
This 1,800 square foot private venue is located in the heart of Time Square. 353 West NYC can host up to 110 guests and is perfect for corporate social events, meetings, conferences and trainings.
17. The Farm Soho
Make your guests feel at home at your next event at The Farm Soho. This trend venue has two event spaces: the Main Event Hall and the Multi-Purpose Lounge/Catering Area. Both spaces are decorated with rustic bespoke furniture and can be arranged to fit most event themes.
18. 19th Avenue Event & Exhibition Center
The 19th Avenue Event and Exhibition Center offers an 11,000 square foot space for any event. You can also take advantage of their smaller support areas for lectures, conferences and other gatherings.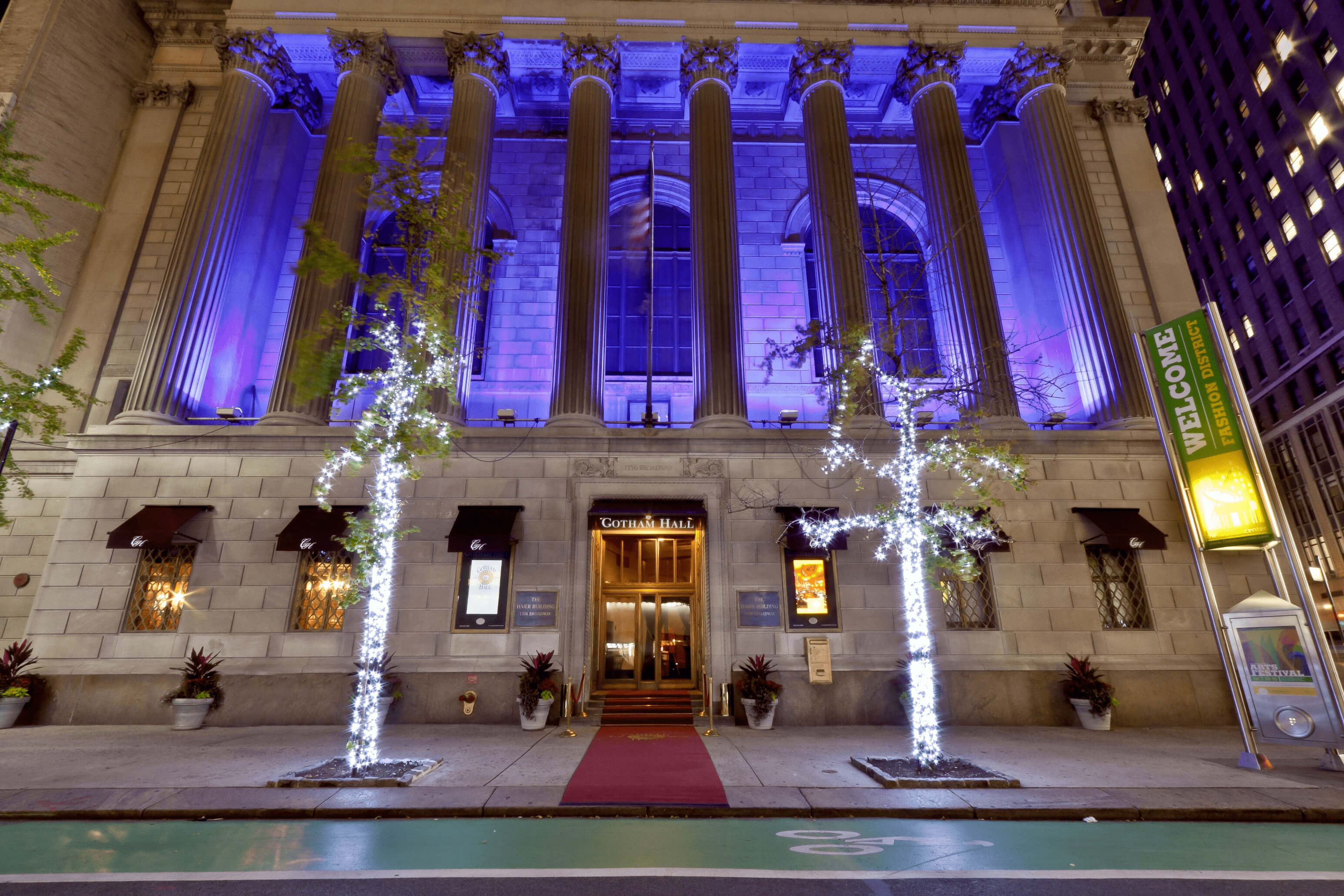 Not a fan of competing with other events in the same venue? Gotham Hall Events only hosts one event at a time, which means your event will steal the show (since it's the only one inside). Celebrities like Britney Spears and the Bachelorette have come to Gotham Hall Events because of the stellar service of its event management team, and because unlike other New York City venues, Gotham Hall Events can truly impress attendees.
20. Espace
With two large event spaces, Espace can accommodate 400-500 seated or 1,000-1,200 standing guests. The 3,500 square foot function room features wireless internet access and a DJ Booth.
21. la.venue
la. venue is located inside the famous "Terminal Stores" and can host up to 300 guests. The venue is equipped with modern day technology but features stunning exposed brick and wide-plank wood floors. It's a great venue for organizers interested in combining the old with the new.
22. 583 PARK AVENUE
This venue recently underwent a major renovation and is now equipped with a state-of-the-art audio/visual system. The glamor of this space has made it a popular choice among organizers planning galas, and award ceremonies.
23. CAPITALE
Host your next event in Capitale's 15,000 square foot Grand Ballroom. Capitale's ballroom can host up to 700 guests for a seated dinner or 1,500 for a standing reception. Organizers can also utilize one of the venue's private rooms on the upper level for more intimate gatherings.
24. The Glasshouses
The Glasshouses is located in the Chelsea Arts Tower and is available for a variety of corporate and private events. The Glasshouses consists of two event spaces: Glasshouse 14 (3,600 square feet.) and Glasshouses 21 (3,400 square feet). The two levels can be rented together or separately and each space can accommodate up to 200 guests for cocktail parties and 150 guests for sit down dinners. Floor to ceiling windows provide event attendees with sweeping skyline views, it's a great space for a sophisticated gathering.
25. PENTHOUSE 45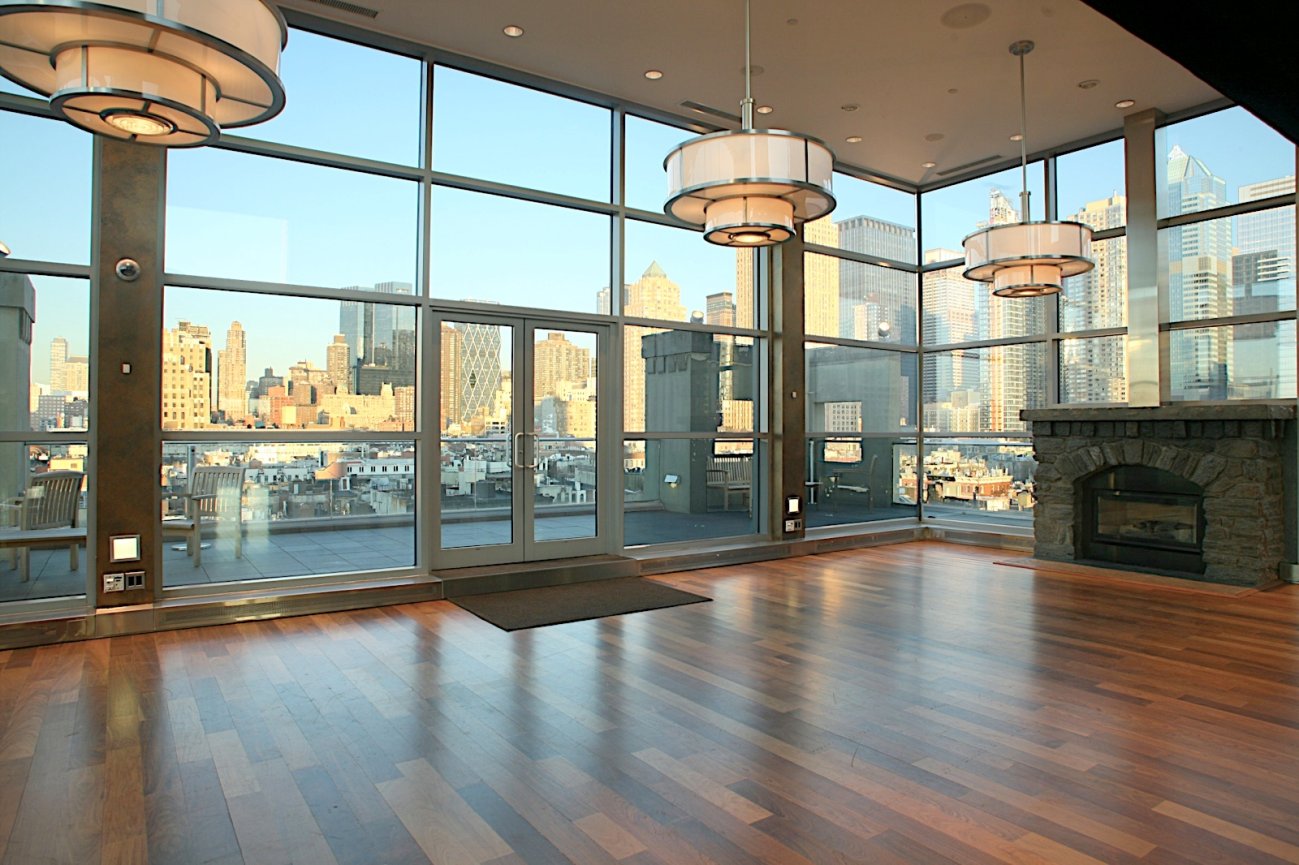 Enjoy panoramic views of the NYC Skyline and the Hudson River at Penthouse 45. The venue boasts 2,500 square feet of indoor event space and 1,750 square feet of outdoor terrace space. Penthouse 45 offers multimedia amenities like a Bose ControlSpace Audio System and Sony BluRay/DVD/CD Player. Plus it features a professional kitchen for caterers to work comfortably, multiple built-in television monitors and a grand fireplace.
26. The Town Hall
Famous for its intimate atmosphere and amazing acoustics, The Town Hall is a 1,500-seat historic venue located on West 43rd Street. Designers McKim, Mead and White got rid of Box seats and eliminated all obstructions of view, making the saying "No bad seat in the house" completely true at this event venue. The Town Hall is available for daily and weekly rentals, rental periods include set-up, performance and load-out.
27. Wix Lounge

The NYC Wix Lounge is a free coworking, event and exhibit space for Wix members. You can rent the lounge and host an event for up to 120 people. Best of all, Wix will provide its space and online marketing content for free.
For those who don't know, Wix is a drag and drop website builder.
28. OFFSITE
OFFSITE is Midtown Manhattan's exclusive creative meeting venue. Your guests will have access to OFFSITE's whiteboards, large-screen TVs, smart boards and 50-foot display wall. This stunning event space will surely help organizers to increase event registrations once attendees realize how inspiring this space is!
29. Lightbox
Lightbox, NYC's first immersive events and interactive arts venue, provides event planners with technologies that create virtual reality experiences, and immersive video mapping. Some of Lightbox's clients include: MTV, Vimeo, Nike, Vine, Lancome, HP, L'Oreal and Ralph Lauren. Take advantage of event technology and wow event attendees using the amazing new tools Lightbox offers organizers!
30. The Palace
The Palace on Madison Avenue is the first five-star, five-diamond hotel in NYC history. The Palace offers over 30,000 square feet of event space across four expansive floors and contains several individual spaces for smaller meetings.
31. PENN6
Penn6 offers its private event space to event planners. You can also utilize the private loft at Penn6 NYC to host an event of any size. Venue staff are available to help organizers create an amazing corporate outing!
Rent out up to 5,600 square feet of event space at ARENA Event Space on West 41st Street. This venue offers in-house extensive lighting & AV System to its event planners.
33. 91
91, is the perfect venue for small events. Located in Greenwich Village, 91 features two main areas and is home to renowned catering company, The Upper Crust.
34. Charlie Bird
If you're looking for traditional American and Italian cuisine, host your next sit-down dinner at Charlie Bird. Charlie Bird is famous for its seafood, roasted meats, great wine and creamy espresso. You can rent an intimate private dining room for an event with up to 14 guests. If you're planning a large event, you can rent the entire restaurant.
Sit poolside at your next event when you book McCarren Hotel & Pool in Brooklyn. This venue accommodates groups of up to 150 event attendees. Event goers will love the fact that they can take a dip in the hotel pool if you're event is casual and is happening in New York's humid summer months.
36. 70 Park Avenue
Host a working lunch, conference or cocktail party at 70 park avenue Hotel. You can book space in their Penthouse Suite, at their 101 Park Ave meeting location or reserve between 6 to 9 hotel rooms for your next event or small meeting.
The New York Angelika Film Center & Café is located in New York City's trendy Soho neighborhood and features six auditoriums equipped with on-screen computer projection, surround sound and wireless and lavalier microphones. Not all New York City venues feature such state of the art equipment - event planners take note!
38. WeWork Bryant Park Event Space
Most of the New York City venues on our list are restaurants or dedicated event spaces. WeWork is something a bit different. Typically, WeWork is known as $10 billion coworking space startup. But some of their office locations also offer private event spaces. Take WeWork Bryant Park location as an example. This space features stunning views of Bryant Park. It's an elegant space perfect for a networking event, or small meetup.
39. Loft 172
Loft 172 is the ideal event space for professional events and corporate functions. This venue features a large party room, one smaller room that can be used for a smaller meeting space, a large kitchen, three bathrooms and an outdoor roof-top deck that is accessible from the loft.
40. The W Loft
The W Loft is a glass building with scenic waterfront views of the Manhattan skyline. Located in Williamsburg, Brooklyn, The W Loft can fit up to 150 people for a standing event or up to 80 people for a seated function with space for networking.
41. MEET on Bowery
MeetNYC on Bowery is an open format penthouse loft with a private adjoining rooftop that works well for groups of 8-36 guests. It is an open, collaborative space that's great for pitch meetings, off-sites, and brainstorming sessions. MeetNYC also has a venue on Chrystie St and their newest space will be opening in SoHo in May 2017.
Whether you are looking for event venues or catering services, New York City is filled with options.
Ready to take your events to the next level? Click the button below!