Networking is and likely will always be one of the primary reasons attendees sign up for events. Find inspiration for your next networking event with these examples.
Networking is not only an opportunity that serves to personalize an individual's event experience, but now more than ever, networking events have become crucial to professional success—for attendees and organizers alike.
Out of 750 professionals surveyed by HubSpot, 41% wished they could attend networking events more frequently, and—according to the 2018 Event Marketing Report—80% of businesses that are overperforming will be increasing their live-events budget in the next year.
Attendees want a return on their investment through these types of opportunities, and thus networking tactics should be a crucial aspect of your larger event strategy. The question becomes how do you create events that stand out in a space where exceptional events have become the norm?
What are networking events?
All events can provide networking opportunities for attendees to engage and connect with other individuals. Contrary to popular belief, networking events aren't just a particular type of gathering, instead, organizers can find opportunities to help attendees find valuable connections at any (or nearly any) event.
Who organizes networking events? Why are they relevant to event planners?
So, why should you as the organizer take the time to create a potentially elaborate networking experience?
Because a satisfying networking experience just might be what separates your event from those of the competition.
Attendees are eager to attend events that provide them with opportunities for professional development. Introducing attendees to people who can teach them new skills or advance their career is a great way for you to create an experience people will sign up for again and again.
Below readers will find the ultimate event networking guide. Use it to create remarkable events that add value and motivate attendees to register for your next event.
Table of Contents:
1. Lean Startup Conference by Lean Startup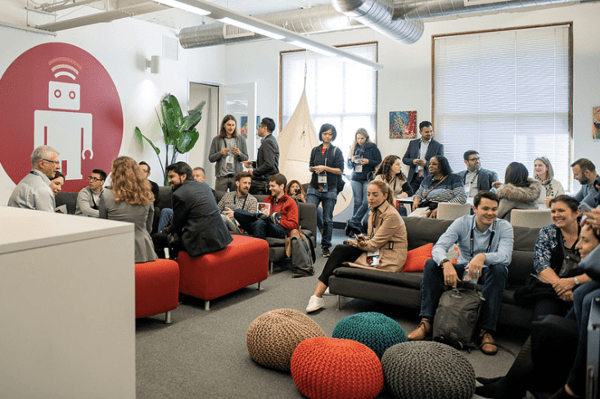 Source: Lean Startup
A tour you won't snooze your alarm for? The Lean Startup's annual conference creates the ultimate, exclusive networking event experience. Hosted in San Francisco, the event includes half-day tours of innovative startups like Slack, Pivotal Labs, Zendesk, and Thoughtbot.
This smaller scale, more personalized networking event is the perfect space for event-goers to network with business leaders and attendees alike. Moreover, it is the ideal opportunity for event organizers to cement relationships with sponsors and partners - a vital consideration for your comprehensive event strategy.
Key Takeaway: Use your event location and established relationships with sponsors to broaden (and customize) your attendees' horizon. Working with other companies expands your audience reach, while providing the ultimate space to form connections.
2. Social Media Marketing World by Social Media Examiner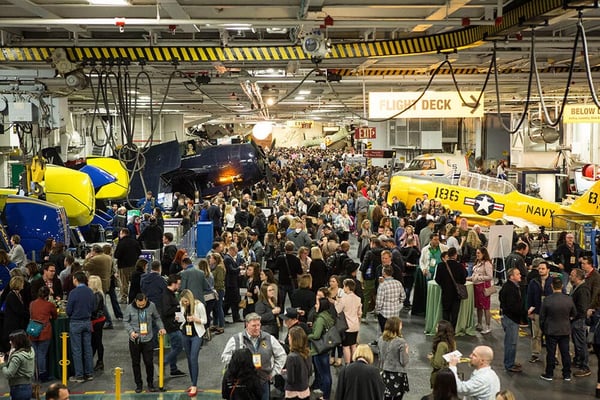 Source: Social Media Examiner
The organizers behind Social Media Examiner excel at creating networking events. Their annual conference, Social Media Marketing World, is a noteworthy example. Given that there over 7,000 attendees, the organizers behind Social Media Examiner enable registrants to connect before they even step foot in the event venue (more on this later). Private LinkedIn groups, Slack channels, and live online meetups facilitate communication opportunities between attendees.
But that's just the beginning. Once the event begins, there is a bingo networking icebreaker aboard the USS Midway Aircraft Carrier. This innovative (and historically impressive) venue cannot be overlooked; it is a "wow" factor that makes it easier for attendees to immerse themselves in the event, and thus forget about any social anxiety they may have when meeting new people.
Key Takeaway: Give them something to talk about. At times the biggest challenge is facilitating the networking experience, whether that's through choosing an incredible venue or through implementing easy-to-use gamification features. Creating a positive, interactive experience should consistently be a priority of your networking event strategy.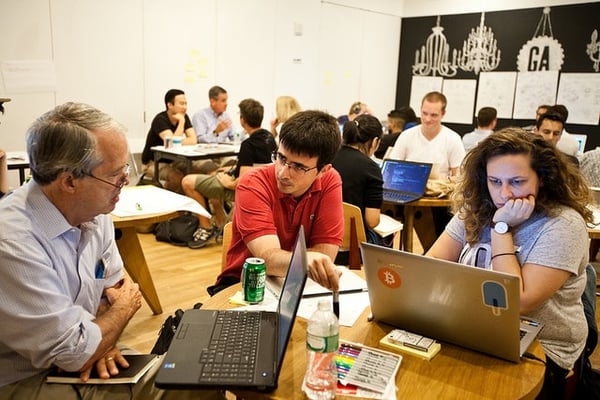 Source: CoinDesk
With a $30,000 prize on the line and the chance to convene with top blockchain developers, Building Blocks Hackathon at CoinDesk's Consensus is more than just a competition for engineers. CoinDesk cements Consensus as a networking event by creating an online space for attendees to connect pre, during and post event by encouraging participants to form teams through an event networking app.
Giving attendees an opportunity to coordinate with one another prior to the event resulted in a more rewarding networking experience overall. Perhaps just as importantly, the event itself—a prize competition—motivated attendees to get to know one another prior to the event. As a result, participants felt like it was in their best interests to communicate with others beforehand.
Key Takeaway: Creating an online community can facilitate a better networking experience during the event. If you can, consider adding prizes that will incentivize team-building and communication between attendees.
4. Entrepreneurs United by Teach for America

Source: Teach for America
Networking events don't require 4-acre flight decks or $30,000 prizes. Teach for America's Social Entrepreneurship & Innovation (SEI) program created Entrepreneurs United. It brings together young entrepreneurs and established industry leaders to create an invaluable networking experience by kick-starting their careers early on, and experts who volunteer to mentor young attendees get the opportunity to establish alumni relationships with one another.
An event might only last a few days, but lessons learned have a lasting effect on event goers. Making use of an alumni network will make your event relevant in the long run, while providing excellent networking opportunities for all attendees.
Key Takeaway: Consider incorporating past event attendees into your event agenda, as possible keynote speakers or volunteers. Promoting diversity and fostering skills that will serve registrants for years to come will cultivate a pay-it-forward mentality and a memorable, positive brand association.
5. The Revenue Summit by Sales Hacker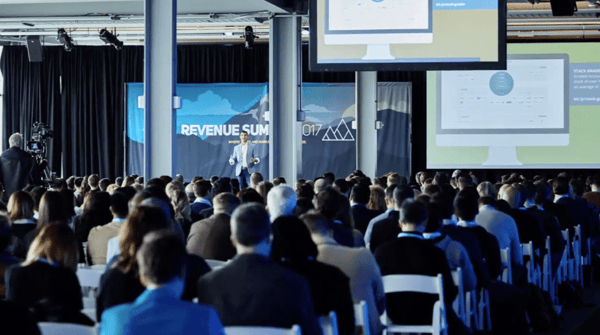 Source: Sales Hacker
Sales Hacker hosts The Revenue Summit, an event for sales and marketing professionals. With over 1,000 attendees and more than 44 speakers, the conference itself is all about bringing enterprise B2B SaaS companies together. However, within the summit Sales Hacker orchestrates a particularly exceptional networking strategy. They call it: Appexchange Demo Jam.
In between sessions, attendees witness a battle of apps à la a live game show. In three minute intervals, attendees demo two competing apps and collectively select a winner. Although Appexchange is not the main event within The Revenue Summit, it does motivate attendees from different tracks to collaborate.
Key Takeaway: People like to contribute and witness the effect of their contribution. An out-of-the-box, collaborative experience doesn't have the be the focal point of your event, but it certainly adds value to an otherwise traditional conference.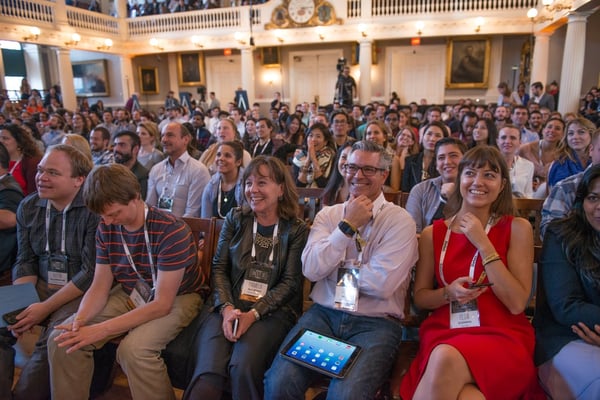 Source: Forbes
With over 7,000 attendees, an event village, and a music festival, the organizers behind the Forbes Under 30 Summit pull out all the stops. The Under 30 Summit distinguishes itself by implementing a Day of Service into the weekend-long event. Last year, Forbes partnered with Boston Public Schools to allow participants to mentor local students. This event strategy serves to encourage networking and partnerships amongst attendees and the greater community, while improving brand sentiment.
Key Takeaway: Create opportunities that attendees will want to be motivated to participate in. By tying networking to social work, organizers provide event goers with a unique opportunity to make an impact while building professional connections.
7. Startup Competition by South Summit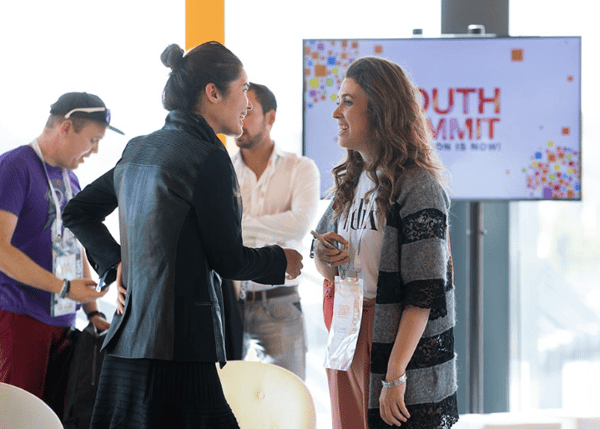 Source: South Summit
Hosted in Madrid, South Summit's Startup Competition gathers over 3,500 startups and more than 50 investors across hundreds of organizations under one roof. In a bid to connect startups and investors, the forum becomes a competition for entrepreneurs to become one of 100 unicorn finalists.
Unlike other aforementioned competition-centered networking events, South Summit organizers differentiate their networking event strategy by implementing one-on-one meetings with the top venture capital firms. This is in addition to a personalized, expert-led masterclass for event goers to perfect their final investor pitch. By connecting attendees with specialists, educational networking becomes key to South Summit's event success.
Key Takeaway: If you can provide tangible and exclusive networking opportunities, do it. Incorporating an element of accessible exclusivity ensures your event will bring value to attendees, while increasing demand from attendees and sponsors alike.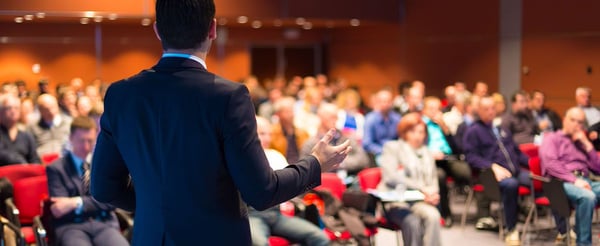 Source: Agency Nation
Elevate is an "unconference" led by Agency Nation. Taking place in Cleveland, it is a two-day event that targets those in the insurance space. Elevate created an online community through their event management software so that attendees can message each other and connect using their LinkedIn profiles.
This exclusive community benefits attendees as they are able to familiarize themselves with other attendees prior to event day. The integration of an online community ensures that registrants foster long-term (and easily accessible) connections, making the in-person experience all the more valuable.
Key Takeaway: Use all tools at your disposal. If your event management software permits, integrate social media accounts to your event website and/or app. Professional social media connections will be particularly useful for attendees in the long run and once the event has ended.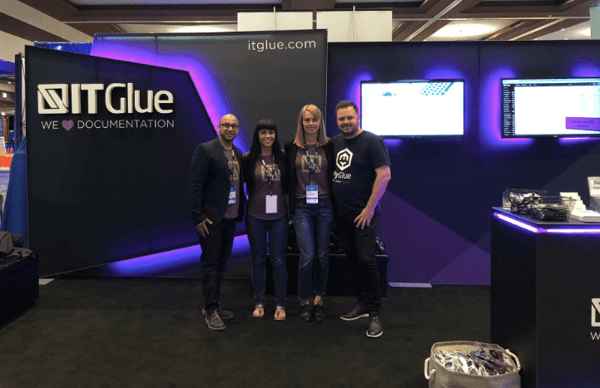 Source: IT Glue
Networking environments can be particularly stress-inducing for event goers. Another way to counteract a potentially overwhelming situation? Create uniquely segmented tracks for your attendees. IT Glue's GlueCon does just that. The 2018 iteration of the conference features four keynote speakers, and eight tailored breakout sessions for their event registrants. Beyond multi-track agendas, the producers of GlueCon 2018 are offering personalized, live solution demos of IT Glue's IT documentation software to all attendees. By creating a tailored event experience that is supplemented by customized product offerings, organizers ensure GlueCon event goers will benefit from the most valuable connections.
Key Takeaway: Provide personalized solutions in real-time and categorize your agenda into themed tracks. It is a way to connect attendees with people, products, and topics they find compelling while helping calm the anxiety that arises when meeting strangers.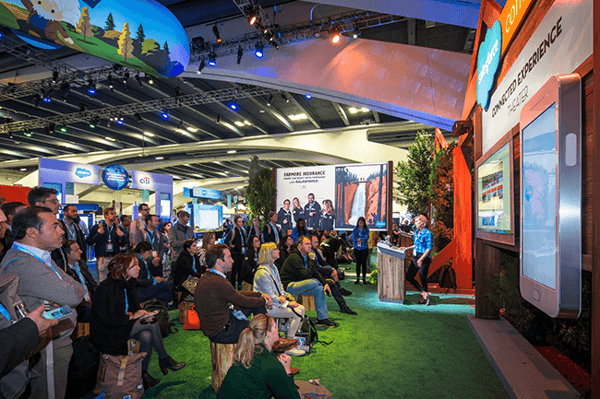 Source: Salesforce
Dreamforce by Salesforce features a few of the aforementioned networking ideas. For instance, the Equality Summit raised over $1 million dollars for workforce equality and featured role-segmented sessions. However, it is their use of personalization and human-touch that truly differentiates Dreamforce from other networking events. Dreamforce attendees are referred to as "Trailblazers," cementing event registrants as innovators within their respective industries. This simple tactic serves to foster the Dreamforce community by inviting attendees to consider themselves a part of a (very large, over 171,000 person) family.
Moreover, Salesforce created a post-event cookbook, featuring "Trailblazer" recipes that were paired with apps. This quirky, informational offering gave attendees the opportunity to be featured within the event community, and awarded contributing attendees an innovative platform to connect with attendees and Salesforce community members.
Key Takeaway: Create unique and useful ways for your attendees to connect - app-"infused" recipes and nicknames are welcome! These small additions will transform your event from a multi-day experience to an exclusive, professional community.
Conclusion
Effective networking is crucial to your event's success. Here are the main takeaways recapped before you organize your next great networking event.
Networking is all about bringing people together, find a memorable way to do it that fits your event strategy.
Keep in mind that entertainment is a part of networking, but attendees must see value behind it (a return on their investment if you will).
Optimize all networking opportunities by considering online strategies before, during and after your event. Online communities add an element of exclusivity and motivate attendees to connect.
Use all available tools at your disposal—location, sponsorships, partnerships, previous attendee mentorship programs—you may have more than you realize at your fingertips. Don't miss a potentially great opportunity.
Be creative. Networking is hard, even the thought is overwhelming. Consider ways of facilitating the networking experience in a way that allows your event attendees to get the most value of the resources you've provided.
Looking for more event ideas and examples? Download the ebook below!